BLOSSOM & BLOOM, Volumizing Conditioner is recommended to all the people whose hair is fine, weak, and hard to manage. One package contains 236 ml of the cosmetic, which holds out for approximately two months of the treatment. Moreover, the bottle goes with a very easy to use applicator.
The product is pale yellow and has semi-liquid consistency.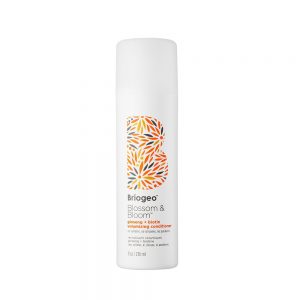 BLOSSOM & BLOOM, Ginseng + Biotin Volumizing Conditioner is a product which aim is to add volume to hair and rebuild it. Moreover, the product provides moisture, reinforces hair bulbs and enhances hair growth. Owning to the special substances, the product delivers noticeable regeneration ever since the very first application that delivers long-lasting effects in a form of healthy and beautiful hair. What is more, BLOSSOM & BLOOM, Ginseng + Biotin Volumizing Conditioner has safe formula that is suitable for sensitive scalp and super damaged strands. It simply does not contain any parabens, silicones, artificial substances nor sulphates. Thanks to this, all the active substances included into the composition are free to penetrate deep into hair and scalp to supply them with complex nourishment. It is also worth pointing out that the product is recommended to vegans since it does not contain any zoonotic substances.
Probably, you are aware of the fact that proper application is the key to obtain looked-for effects. How to do it? Only after shampooing and squeezing excess water can you put BLOSSOM & BLOOM, Ginseng + Biotin Volumizing Conditioner on the length of strands. Do not forget about hair ends since they also require conditioning. If you feel like doing this, you can also apply a small dosage to the scalp. Let the cosmetic be absorbed and after five minutes rinse the product off. Obviously, when the cosmetic gets into eyes, try to eliminate the irritation by cleansing eyes with great amount of water.