This product is really luxurious! Even the bottle the cosmetic is stored in indicates that the content is exceptional. To clarify, the bottle is made of glass and has yellow and black colour. Additionally, the bottle is decorated with the brand's logo imprinted below the neck. What is more, the product goes with a pump which facilitates application. One bottle stores 100 ml of the product.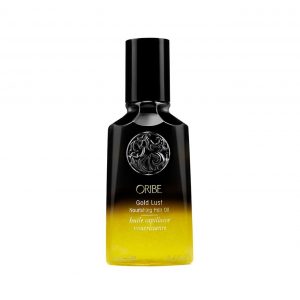 What does make Oribe Gold Lust Nourishing Hair Oil so exceptional?
Undoubtednessly, it is all due to the composition of the product, where we can find herbal extracts such as jasmine, edelweiss, lychee, sandal wood, bergamot orange and blackcurrant. However, the most important ingredient is argan oil. It is the very substance, that, in greater extend, delivers nourishment, strengthening as it enhances rebuilding processes of hair. Despite argan oil, the cosmetic also contains emollients and Shea butter which aim is to maintain hydration of hair at right level. What is more, Oribe Gold Lust Nourishing Hair Oil also takes care of smoothness, condition improvement, moistening and providing gloss to strands. The product is recommended to people who have damaged, dehydrated and dyed hair.
What are the effects produced by Oribe Gold Lust Nourishing Hair Oil? Just a few applications are needed to notice change in both look and condition of hair. To illustrate, strands become miraculously glossy and smooth. Natural colour of hair is protected against fading away and scalp is shielded against solar radiation and other aggressive factors. Moreover, the cosmetic counteracts static and helps with styling and combing.
After treating your hair with Oribe Gold Lust Nourishing Hair Oil once, you will admit that application of the product is very easy. The cosmetic has to be put on before shampooing or right before blow-drying in order to provide protection against SLS/SLES or hot air. Actually, the cosmetic can be applied to dry hair to supply it with gloss and shield against UVA and UVB radiation.