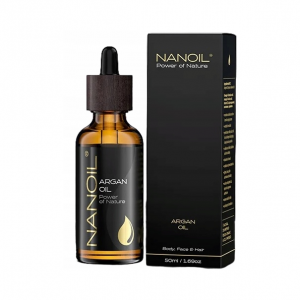 Argan oil is definitely the most popular natural beauty product. Moroccans call it the liquid while we like to label it the most powerful beauty oil. This what Nanoil Argan Oil is like – the highest-quality argan oil for beauty purposes. Find out what the product holds – discover the power of argan in your daily beauty routine.
Description: Nanoil Argan Oil
Closed in an elegant bottle, Nanoil Argan Oil is the essence of what's best in nature. The only natural oil which has so many nutrients (around hundred of them). This oil is cold-pressed and unrefined so it doesn't lose them during the extraction process. The whole set of vitamins, minerals, squalane and fatty acids is passed on to your skin and hair. This is the reason why argan oil from Nanoil works so well, effectively replacing hair conditioners.
This is a very lightweight oil that can be used in different ways. It effectively protects from the sunlight, secures the ends and works for intensive hair and scalp oil treatment. Use it solo or mix it with other oils creating healthful blends.
What effect does the Nanoil Argan Oil have on hair?
This organic argan oil from Nanoil is best to use hair. It used to be underrated but now it's women's favorite oil and a remedy for damaged, weak, very dry tresses. What makes it so popular? Why it's still one of the most famous beauty oils? The variety of hair benefits makes it "wanted", that's for sure.
Nanoil Argan Oil strengthens hair follicles and prevents hair loss.
It repairs weak tresses.
It prevents split hair ends.
It helps maintain the optimal levels of hydration.
It protects tresses from the sun and heat.
It gives you smooth, soft, resilient hair.
It brings out the natural hair color and gloss.
Other properties of Nanoil Argan Oil
Hands down, Nanoil Argan Oil isn't just a hair-care oil. This all-natural oil replaces most beauty products we use every day – not just hair conditioners, scalp treatments or serums for hair ends but also face creams, make-up removers, make-up primers and body massage products. The possibilities that the Nanoil Argan Oil gives are endless, really!
As far as skin care goes, the Nanoil Argan Oil is an emollient which prevents the loss of water by forming an occlusive layer on the skin's surface. This isn't the only effect, though. This argan oil aids the cell renewal and revitalizes weak, sallow, extremely dry skin – it restores softness and radiance, plus it neutralizes all kinds of irritations that may occur. Another great thing is that it protects the skin against the sun and free radicals reducing their harmful effect on skin. The long-term usage of the Nanoil Argan Oil preserves the skin's young appearance. This is surely the most effective natural cosmetic.
INCI: 100% Argania Spinosa Kernel Oil
Size: 50 ml
Source: www.nanoil.us/argan-oil