L'Oréal Total Repair 5 Conditioner is recommended to people whose hair is damaged due to frequent dyeing or hot-air styling. The cosmetic will provide an ideal solution to people who are determined to improve hair condition and make strands look beautiful again. Would you also find the product useful?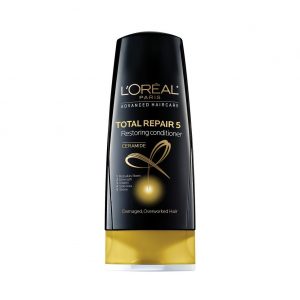 L'Oréal Total Repair 5 Conditioner counteracts five signs of damaged hair.
It works perfectly as a product rebuilding distressed strands, smoothing, providing gloss, eliciting and reinforcing. Thanks to it, combing will be easier as hair will become more manageable. What is more, hair bulbs and follicles become stronger, strands healthier and scalp more nourished. You will no longer have to worry about hair loss, its tendency to breaking or split ends. Instead, you will notice your hair becoming more resistant to mechanical and chemical damages. L'Oréal Total Repair 5 Conditioner provides protection against solar radiation, urban pollution, salty or chlorinated water, damaging substances included into hair dyes and any other aggressors that derive from the external environment.
How should L'Oreal Total Repair 5 Conditioner be applied? The cosmetic has to be applied to clean and damp hair and rinsed off after three minutes. To improve action of the conditioner, it is suggested using Total Repair 5 shampoo. Finish application with rubbing into strands balm that belongs to L'Oreal Total Repair 5 collection.
It is worth mentioning that the most import ingredient of L'Oreal Total Repair 5 Conditioner is argan oil. It is believed to be one of the most valuable and most expensive substances used for hair care. Argan oil provides softness, silky smoothness, and natural shine to hair. Moreover, the oil takes care of hair roots and scalp. It helps with styling and tames even the most unruly strands. It will be useful for setting every, even the most complicated hairdo.