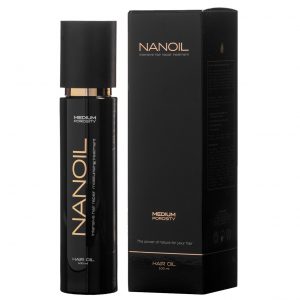 Nanoil is a hair oil able to take care of every hair and scalp type. How is it possible? We can choose among the oil designed for low porosity, medium porosity or high porosity hair. Each version contains different ingredients suitable for various types of strands. Apart from them, Nanoil also includes vitamins, UV filter and other substances responsible for hair beautification and reinforcement. All Nanoil oils can successfully replace the hair conditioners you have been using so far. By applying only the oil, you'll provide your hair and the scalp with the comprehensive care. You'll no longer need to use other hair care products, which in fact, can overburden hair or make the scalp get greasy faster than it's used to.
How does Nanoil hair oil work?
Nanoil targeting high porosity hair regenerates damaged strands and soothes the scalp if irritated. Moreover, it protects against the upcoming damages, reinforces hair bulbs and delivers many nourishing substances. Thanks to all of this, your hair becomes more resistant to thinning, the action of damaging factors and some substances of hair dyes. Furthermore, Nanoil will turn dull strands into shiny hair, smooth frizzy and affected by the static hair, boost hair volume. If you often blow-dry hair after washing, then Nanoil will protect the stands against the high temperature. Basically, this beauty product will create a protective and moisturizing layer which counteracts the action of free radicals and water evaporation.
The ingredients that make up the oil targeting high porosity hair take care of the scalp by preventing greasy scalp and dandruff. And what's included into the product? We can find there the following ingredients: Almond Oil, Argan Oil, Evening Primrose Oil, Avocado Oil, Passion Fruit Oil, and Cotton Seed Oil. Also, Nanoil contains panthenol, keratin, lanoline, UV filter, silk, vitamin E and substances counteracting hair loss.
Nanoil targeting medium porosity hair affects both the scalp and hair. In a comprehensive way it'll take care of the skin of your head making you feel exceptional and beautiful. Nanoil provides hair with the proper level of hydration and nourishing substances. As a consequence, the beauty product counteracts thinning, split ends and dehydration of your hair. Moreover, it improves hair flexibility, makes the strands soft to the touch, easy to style and detangling. The cosmetic emphasizes the natural curve of hair and brings out what is the most beautiful about the strands. Furthermore, Nanoil regulates the work of sebaceous glands, strengthens hair bulbs as it soothes irritations of the scalp. Thanks to this your hair will become stronger and less prone to the action of hair-damaging substances. Additionally, hair will be no longer distressed due to unskilful combing or care.
What are the substances that Nanoil for medium porosity hair is made from? These are Macadamia Oil, Argan Oil, Marula Oil, Jojoba Oil, Passion Fruit Oil and Coconut Oil. The product also contains silk, UV filter, vitamins A and E as well as hair strengthening substances. These ingredients were selected to match the medium porosity hair so as to help them take care of hair and the scalp in the best way.
Nanoil targeting low porosity hair helps with styling and taking care of strands. Moreover, the oil boosts hair volume, protects hair ends against splitting and counteracts greasy scalp. It regulates sebum secretion also prevents dandruff and other dermatological ailments from occurring. Thanks to the precisely selected substances, Nanoil facilitates detangling and styling as well as it accelerates hair drying. Furthermore, Nanoil will help you to set any hairdo you want to wear, tame unruly hair and counteract frizz and static. Thanks to the product, your hair will become thicker, longer and stronger. You'll amaze all your friends with the new hairdo.
What's in Nanoil hair for low porosity hair? The main ingredients of the product are Pine Oil, Coconut Oil, Argan Oil, Castor Oil, Shea Butter, Passion Fruit Oil, Babassu Oil, Monoi Oil and Cupuacu Butter. Moreover, the cosmetic also contains panthenol, vitamin A, UV filter and vitamin E.
How to apply Nanoil hair oils?
Application of Nanoil hair oil is simple. And the best part about it is that the oil can be put on hair in a few ways. For example, Nanoil can be applied either to dry or wet hair. Thanks to this method of application, strands will become sleek and glossy as well as it will be easier to detangle. Moreover, Nanoil can be used with other hair care products. In this way, you'll enrich their action, and you'll supply the hair with twice as much of nourishing substances. Additionally, you can use Nanoil a few times per day or just run a weekly treatment. Finally, Nanoil will protect the cosmetic against split ends and regenerate the scalp.
source: nanoil.us