This is the kind of a cosmetic women adore! Kérastase Elixir Ultime Oléo-Complexe is designed to condition all hair and scalp types. It is made from four cosmetic oils: corn, argan, Camellia and pracaxi. The pump, the bottle goes with, facilitates use. The 125-mililitre bottle holds out for countless number of applications. What are the features of Kérastase Elixir Ultime Oléo-Complexe?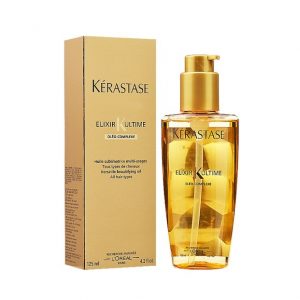 Kérastase Elixir Ultime Oléo-Complexe offers nourishing and regenerative action. It conditions inner structures of hair, takes care of scalp and reinforces hair bulbs together with their follicles. Of great importance is also the role each ingredient plays. To clarify, corn oil is a natural antioxidant. It protects hair against working of free radicals, urban pollution and other aggressors which might contribute to speeding up scalp ageing or hair greying processes. Additionally, corn oil gifts hair with shine and softness. When it comes to argan oil, it is considered to be one of the most popular ingredients used for scalp and hare care. It is able to rebuild damaged strands, regenerate split ends and counteract dandruff.
Pracaxi oil is responsible for delivering nourishment and gloss to strands, and Camellia oil for smoothing hair cuticles.
How should Kérastase Elixir Ultime Oléo-Complexe be applied? Remember that the cosmetic is used mostly for making combing easier. In other words, the conditioner counteracts tangling. However, to make process of hair styling easier, suffice it to apply Kérastase Elixir Ultime Oléo-Complexe the right way. The product can be put on either dry or damp hair. Only a few drops of the conditioner are enough to take a good care of hair and scalp. The product has to be left on for approximately 5 – 10 minutes and then rinsed off. Next, let the hair become air-dried. Now, as you can see, using Kérastase Elixir Ultime Oléo-Complexe is a child's play.