Think for a while, how many women dye hair or expose it to various, often highly deteriorating procedures? And now think, how many times did you use heat generating tools to set your hair the way you wanted it to look? If your strands are dehydrated, damaged, dull and ends split, then it is high time you took care of your strands immediately. Moroccanoil Moisture Repair Conditioner is designed to help hair that has been damaged because of chemical procedures, too frequent dyeing or heat styling. Check out, whether the product is able to help your hair too.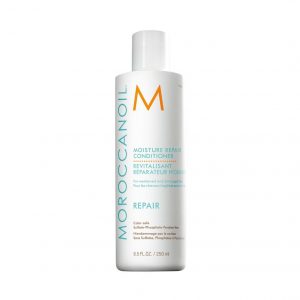 Moroccanoil Moisture Repair Conditioner has moistening and regenerative action.
Just after one application, hair becomes more nourished, manageable, strengthened as it looks simply prettier. Moreover, the cosmetic counteracts free radicals and protects hair against solar radiation, damaging agents deriving from the external environment, and damages, both mechanical and chemical. Furthermore, the cosmetic prevents breaking, dehydration and falling out of hair. Thanks to Moroccanoil Moisture Repair Conditioner, hair is more elastic, its natural colour stays true longer as its inner and outer structures are reinforced. The product does not contain parabens, sulphates nor other substances that might contribute to dehydrating hair and scalp.
Do you know how Moroccanoil Moisture Repair Conditioner should be applied? Before putting on the product, scalp has to be precisely cleansed as excess of water has to be removed. Next, a small amount of the product has to be applied to length of hair. In fact, additional portion of Moroccanoil Moisture Repair Conditioner can be added to hair ends. After two minutes, the cosmetic has to be rinsed off with galore amounts of water. The capacity of the bottle equals 250 ml, which is enough to perform a few-month treatment. For better results, you can accompany Moroccanoil Moisture Repair Conditioner with Moroccanoil Moisture Repair Shampoo (includes argan oil).